2 décembre 2009
3
02
/

12
/

décembre
/

2009
22:29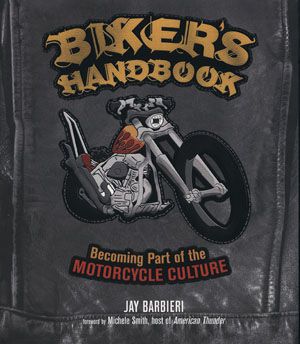 Biker's Handbook : Becoming Part of the Motorcycle Culture
(en anglais)
Author: Jay Barbieri
Foreword: Michele Smith, host of American Thunder
Advance praise:
"Just about everybody in the V-twin motorcycle aftermarket knows Jay Barbieri. Besides being a TV producer for American Thunder on SPEED Channel, Jay is genuinely into motorcycles. What you may not know if that Jay has a very quick wit and a great, though twisted sense of humor. He puts his many years of riding experience and a good dollop of that sense of humor to work in his Biker's Handbook: Becoming Part of the Motorcycle Culture. If you are new to the two-wheeled lifestyle, do what Jay tells you and you'll be fine. If you're already a biker, you'll laugh your butt off because Jay's accounts of the good, bad and ugly experiences of living the lifestyle ring hilariously true."
Dave Nichols, editor of Easyriders and V-Twin magazines
"Having worked and partied with Jay for the last few years, I can attest to the fact that he's a crazy bastard. As for his book, I heartily recommend it. It's a great read, being both informative and entertaining. In his own free-wheeling way, Jay tells you what you need to know about bike events and the motorcycle subculture to fit right in and enjoy the ride. Definitely read it with a cold one at hand, in a place where you can laugh as loud as you want."
Chris Maida, editor of American Iron Magazine
About the book:
There are millions of new motorcyclists hitting the blacktop every year. But being part of the American motorcycle culture takes more than just wanting to be cool. It takes a passion for the open road, freedom, and a lifestyle that even the best financing cant buy. This book, by someone who knows motorcycles as few do, provides a road map to biker culture for anyone new to the experience. Jay Barbieri explains everything a new rider needs to know to become a real biker. He begins with a brief history of motorcycles, and draws on his twenty-five years of riding experience for examples of what works and doesn't in this heady world. Most of all, he aims to spare new bikers the bad decisions neophytes typically make. With hundreds of motorcycle trips under his belt, there is not a mistake Barbieri hasn't made or a situation he hasn't encountered. By sharing the sometimes comical outcomes, he gives the new biker a head start to become more comfortable, credible, and knowledgeable about joining a community that is as much a part of American culture as baseball, hotdogs and apple pie.
Author Bio:
Born and raised in Stratford, Connecticut, Barbieri graduated from the Paier College of Art in New Haven with a B.F.A in Fine Arts (1986), the same year he bought his first Harley-Davidson. During the next ten years, his obsession with American motorcycles grew so much that he partnered with a biker friend from Traverse City, Michigan to open a custom motorcycle shop called Old Mission Scooters. In 2001 he moved to California to pursue his dream of combining his passion for motorcycles with the entertainment industry. By 2004 Barbieri was at the helm of SPEED Channel's highest-rated and longest running motorcycle magazine show, American Thunder. Since he got his first Harley in 1986, Barbieri has racked up over a two hundred and fifty thousand miles on two wheels and has attended Daytona Bike Week and Sturgis over twenty times combined. In this book, Barbieri shares the lessons learned from his years of experience on the motorcycle to help all riders feel more comfortable, credible, and knowledgeable on the road.
sources : http://www.motorbooks.com