18 novembre 2009
3
18
/

11
/

novembre
/

2009
14:58
Orange County Choppers
By Von Dutch :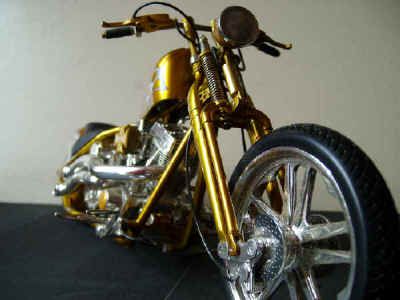 This here is another 1:10 scale model of an Orange County Chopper by Von Dutch.
Again it is a unique model of a custom chopper, the kind that is custom and hand built by Von Dutch at Orange County Choppers in California USA.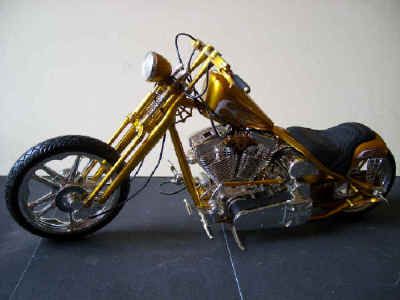 Generally these bikes are custom made to customers wishes, people who have a spare dollar or two, as they cost about $40,000 if you want one. Most people who buy these are celebrities like rock stars, actors and other media personalities, as these guys are the only ones with any cash these days.
The model is beautifully made as faithfully replicates the real bike in every detail. Like my other OCC model, all the essential parts on it work like the gear and brake levers, gear changer, front suspension and the chain engages the rear cog to make the wheel turn around when pushed along.
The saddle on this chopper looks quite comfortable, nice bit of stitching on it too!
The craftsmanship on this model is superb and as it is made of metal it is heavy to pick up too, about ½Lb.
The open drive dhows the main belt, and this revolves when the bike is moved, to illustrate the working parts.
These OCC scale models are very cool looking and it gives the top of my Television set some status...a bit of home cred.
The engine detail is quite good with lots of vacuum plated chrome parts.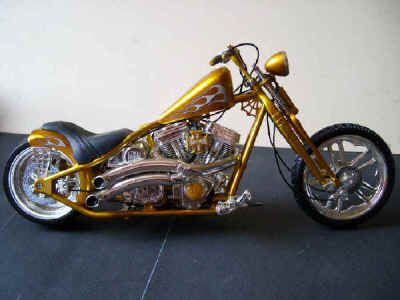 This is my 12th page on scale model bikes now and its tough not to be repetitive on the information I am giving about them, after all they are "only" models and not the real thing.
There are some cheap and cheerful scale model bikes out there but I think that cheapo models are no more than kids toys or a piece of bike shaped plastic.
Below is a good close up of the front wheel and brake assembly, giving a good perspective of how this configuration is set up. Both upper and lower forks move up and down when pressure is applied on the front.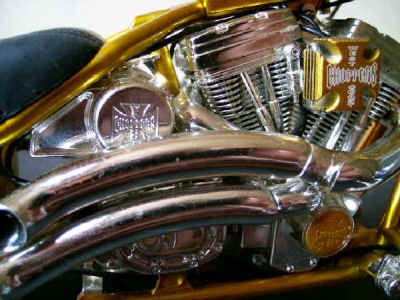 This model is far from being a kids toy though, its delicate and if dropped it will smash due to its weight, having accidentally knocked it off my table myself during a ' senior Moment' I can testify that one or two of the plastic parts are very hard to glue back on ! and the model is never the same again.
Nice gleaming gold flake paint effect on this model.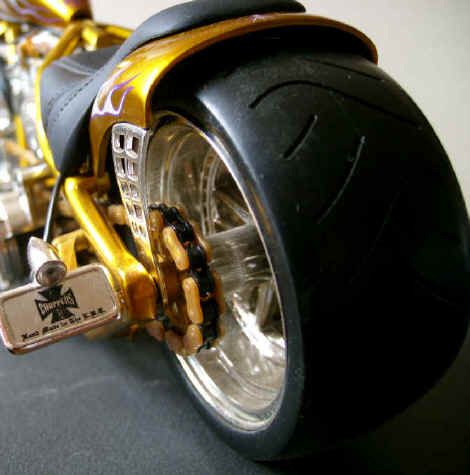 The color scheme on this bike is like a brushed gold and is painted up very well, the decals on it are also very well made and can be read clearly.
The photo below shows the front springs in clear detail, and yes, the little piston shock absorber also works.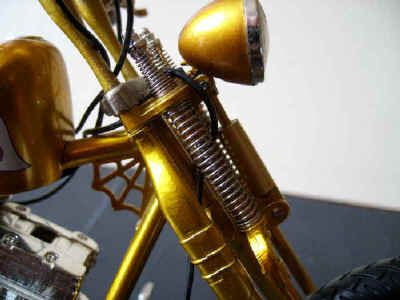 These models can be sought over the internet by using google search to find where they are sold. They are not that easy to come by but with the power of the internet its not too difficult if you really want one.
Nice graphics on the tank. An absence of any type of gauge's may be a bit too radical though, I do like to know how fast or slow I'm cruising along at. It looks like Smith and Wesson revolver cylinders have replaced them !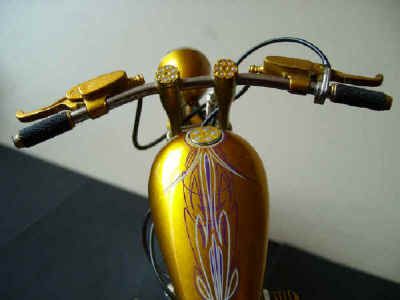 This OCC model is one to consider if you want to get into model bike collecting, its not too expensive at around $30.00 to $40.00 so if you like it you can always get another version of it.
sources : http://www.vincelewis.net