1 décembre 2009
2
01
/

12
/

décembre
/

2009
06:55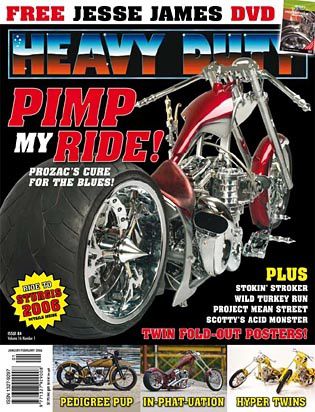 HEAVY DUTY Issue 84 January/February 2006
In this issue 84, HEAVY DUTY is mighty proud to bring you two of Australia's hottest custom bikes. Acid Monster, built by Scotty Cox of Scotty's Choppers fame, is a wonderful metal fantasy based on the imagination of Scotty. No-one, and I mean no-one, can work alloy like him. It won Peoples Choice at Gold Coast Bike Week 2005 and ranks in the top six customs in the world. Grab a copy of HD today to read the story behind it and a fantastic poster.
Our second feature chopper, Gotham City II - the Pimp Bike, is a totally over the top monument to excess. Built by Melbourne's high profile Prozac Choppers outfit, the wild imagination in this build is simply amazing. It is a fitting bike for the cover of issue 84 and a testimony to the skills of the boys at Prozac.

As well, we have two wild twin customs from SA Choppers, a beautiful ride from Phat Choppers on the Sunshine Coast and a full wrap of the Wild Turkey Run on the New England Tableland.

For those into the classic scene there is a beautiful 1926 Model B Pup plus a 1937 Knuckle to drool over. All these bikes are from, and restored in Australia folks, no high priced imports here.

Doc updates his Project Stokin' Stroker 116 cube Dyna and Brumby introduces the new love of his life, Project Mean Street. MS is a VRSCR Street Rod and the editor has a few interesting observations to pass on. And you can read about it in the Jan/Feb issue available now from your local newsagent.
sources : http://www.heavyduty.com.au