19 octobre 2009
1
19
/

10
/

octobre
/

2009
14:58
Words & Pics: Andy Hornsby
At the time of the launch of the V-Rod, there was a sole picture included with the press pack that showed a drag-race version of the 'Rod about to launch down the strip. Complete with its oh-so-short pipes, slicks and a presence that came through in the pictures, we were really looking forward to more information ... but none came. Bummer.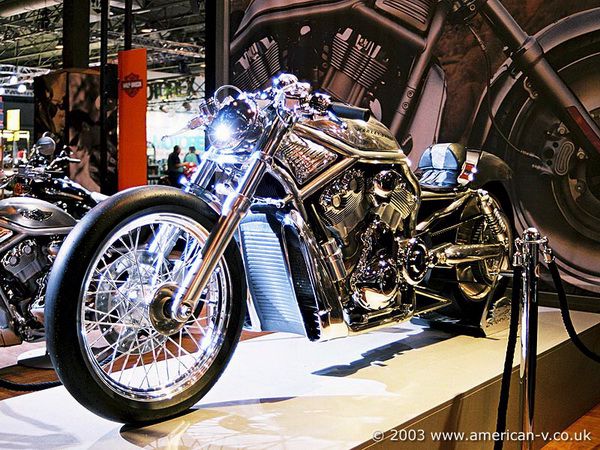 Willie and the V-Rods
SUCH A SHAME: such a good looking bike, and so great was its impact that the figure of Willie G standing next to it in another picture, that was seen but not supplied, passed me by. It didn't occur to me that he was there for any other reason than he was in charge of the project, and was taking credit where it was due.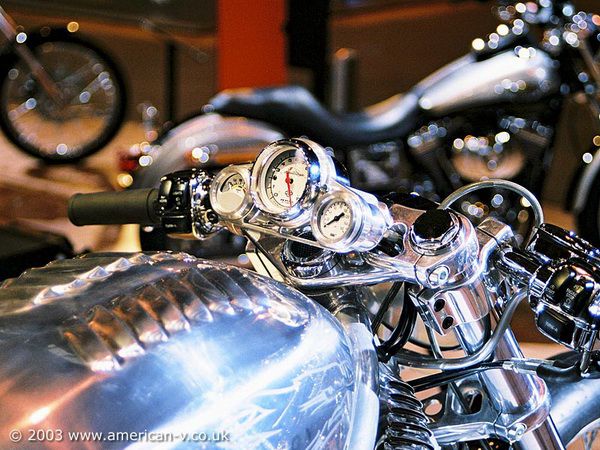 Willie and the V-Rods
I largely forgot about the bike until the NEC show in Birmingham last year, where among the V-Rods was a plinth, and upon that plinth sat a V-Rod drag bike. It was a stunner. It was the same bike: it had to be, and it should have come as no surprise that it was Willie G's personal property and served to demonstrate what can be achieved with access to an R&D department the size of Harley-Davidson's. I could rabbit on about the instruments and start a debate as to why the rev-counter is jammed hard against the red-line; or the mirror finish "tank" with the Screamin' Eagle logo etched onto it; or the seat with no padding beneath the rider, but plenty to stop them sliding off the back; or the air-shifter that seems to be set to go up the box but relies on the hand of God to shift back down, or even draw attention to the stand that holds the thing upright, which is a work of art in itself. But I won't.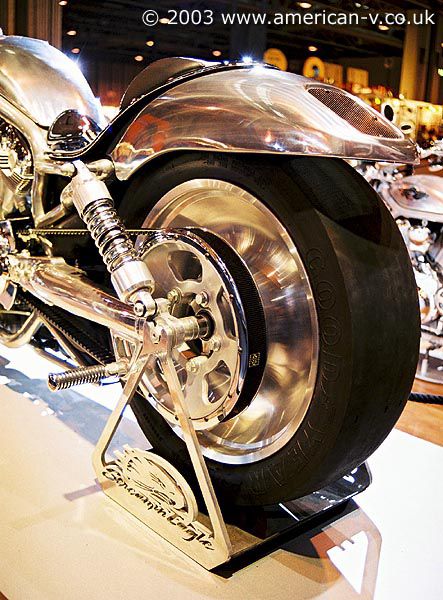 Willie and the V-Rods
I will just sadly report than when asked, towards the end of the show, where the beast could be seen spinning its wheels, or even just howling through those minimal pipes, I was told that everybody at Harley-Davidson enjoyed working there, and they weren't about to compromise their position by ignoring the explicit instructions that Willie G's bike would not be started. It was destined to be nailed back into its crate the following day and freighted back to the US.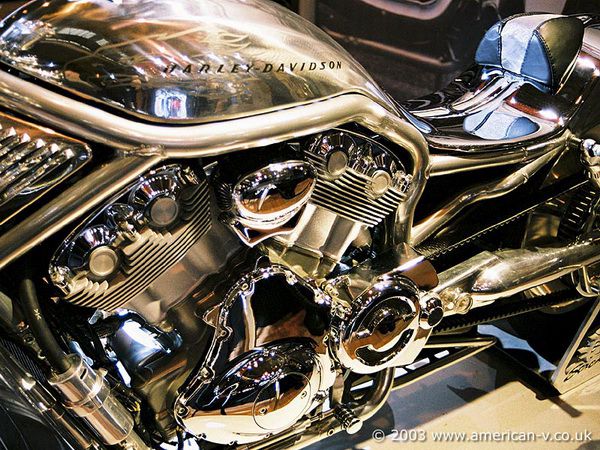 Willie and the V-Rods
Sniff.
Still, we hadchance to look at it properly, and made the most of the last opportunity to shoot it before the crowds hid it from view once again.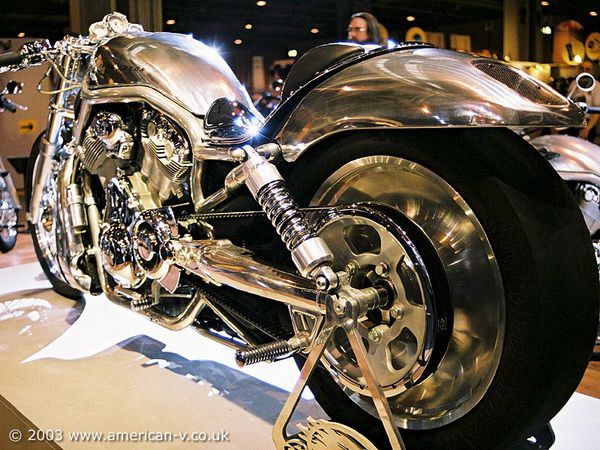 Willie and the V-Rods
Specifications
Owner:
Willie G Davidson
Make & Year:
2000 VRSCA V-Rod
Engine:
Harley-Davidson VR Revolution engine
Exhaust:
Presume Screamin' Eagle
Frame:
Presume stock
Forks:
Look like stock
Rear Suspension:
Presume Screamin' Eagle
Front Wheel:
Steel rim laced to a single disk hub - presume Sportster.
Slick tyre
Front Brake:
Single H-D 4-pot calliper
Rear Wheel:
Stock wheel, square-section drag racing click tyre
Rear Brake:
Stock
Seat:
Seat? polished base with a paded squab to stop the rider sliding off the back.
Petrol Tank:
Stock
Mudguards:
Polished stock rear, missing front.
Paint:
Polished aluminium
Polishing:
Owner's development crew - at a guess
Handlebars:
Clip-ons
Controls:
Stock
Electrics:
largely stock, at a guess.
Lights:
Missing
Machining: Owner's development crew - at a guess
Other:
At least an instrument pod and air-shifter, preseumably much, much more buried deep inside.
sources :
photo : http://www.american-v.co.uk
texte : http://www.american-v.co.uk