3 décembre 2009
4
03
/

12
/

décembre
/

2009
14:18
Trike on Time
Words & Pics: Pete Hicks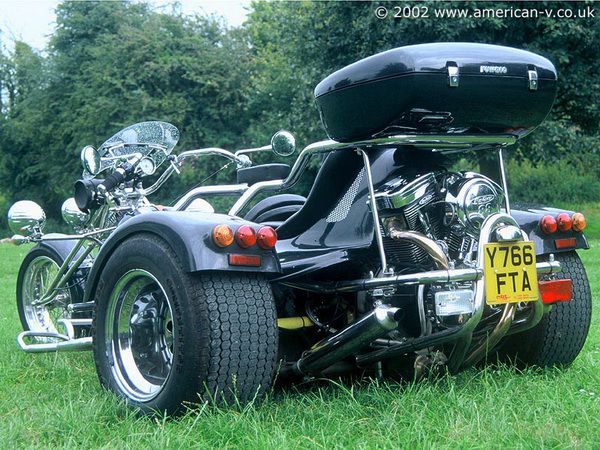 Trike on Time - Words & Pics: Pete Hicks - www.american-v.co.uk

The post-war motorcycle was a necessity for some chaps: a means of getting to their place of work and, for some lucky families, a mode of transport. Back then it wasn't uncommon for a family to get out and about with the aid of a sidecar, often bolted to the weekday solo for the purpose, but all that was about to change.
IN THE HEADY TIMES FROM THE LATE FIFTIES, this two-wheeled God was to become an affordable fashion icon and form of escapism for some youths. Many young lads had one of these vehicular wonderments parked up in their back yard or shed and, at the end of their working week, came the testosterone-fuelled pursuit of tear-arsing about, impressing the ladies and their mates … not always in that particular order. These were the days of the DA, white scarf, studded leather jacket and oily hands from tinkering with their chosen ride.
The bike, not the lady. Behave!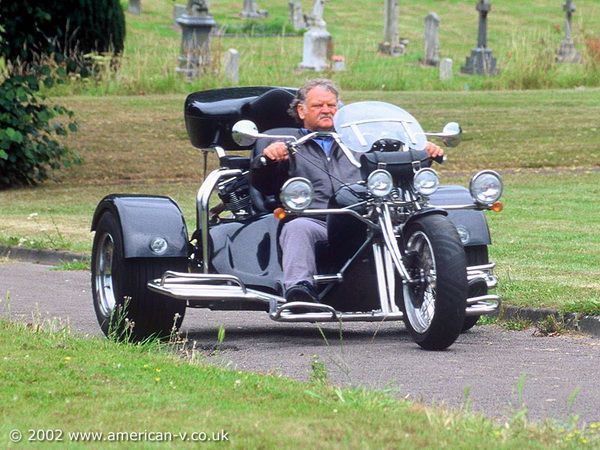 Trike on Time - Words & Pics: Pete Hicks - www.american-v.co.uk

Phil Shellam was one such guy. A young, spirited, motorcycle-loving tearaway, riding with a large contingent of bikers in the Gloucester area. They were the 'Scorpions MCC' and, with their pillions on board, they numbered around a hundred and were a sight to behold when out on the open road together.
Phil came through those years riding a plethora of bikes, most memorably pre-unit bonnies, beezas and other British iron, but eventually due to work and family building commitments, decided to hang up the boots and jacket to settle down. He drifted in and out of the scene briefly but nothing serious, but as I'm sure some of you have experienced, once the adrenalin rush has struck in your younger days, the biking lust just never seems to leave you.
Then some four years ago, Phil's wife, Helen, bought him a factory custom job for his fiftieth birthday. Why can't we all have a partner like that? Within a short time, the friendship was rekindled with some of his ex-club brothers, and the biking bug bit again, big time!
Something was bugging him though, he didn't know what it was at first, but soon realised that it was the freedom of not wearing a helmet if so wished. This had been taken away from us all in early 1973, by the crap government of the time, with their new legislation. No change there then! I remember this only too well, and it was indeed a bummer. Safer maybe, but hey, why couldn't we keep the choice of wearing a lid or not? It's our bloody heads, after all!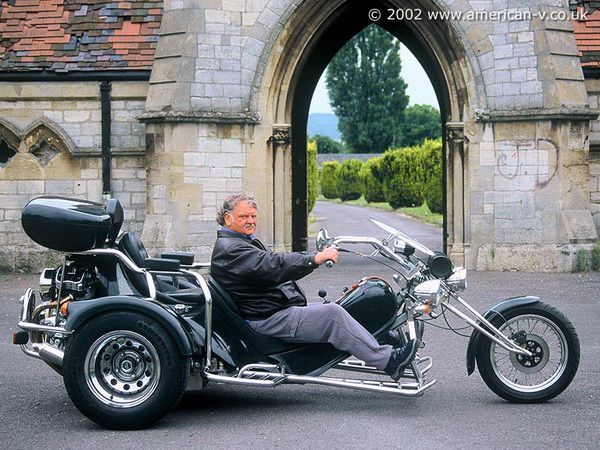 Trike on Time - Words & Pics: Pete Hicks - www.american-v.co.uk

There is a loophole, however and it happened that one of his buddies was running a Goldwing trike, and Phil was quite taken with the fun you can have ... on one of these machines. So just ... for a change, and some memories, Phil decided that a trike was imminent to accompany his bike and while his triking mate wore a helmet, Phil would use the freedom that the trike law allows by choosing not to. He puts his mate's preference down to the fact that he is as bald as the proverbial and needs the extra warmth that this defensive armour provides, but not our Mr Shellam: he's blessed with more than his fair share of hair - the git - and also eats an abundance of Ready Brek - that provider of inner warmth, and all that bollocks if you remember the ad campaign.
So he wanted a trike but the trouble was Phil was unimpressed by many of the trikes he'd seen around - especially the ones that resemble something off a magical kiddies cinematic production. These contraptions are 'Flying Bedsteads', according to Phil. He wanted reliability, quality and class and knew where to go.
He visited the emporium that is MBT Customs in Exeter, who import Rewaco trikes from Germany. If you're not familiar with them, Rewaco trikes are factory built items from Koln, where two technicians assemble them from the ground up … off the end of a conveyor belt, so to speak. There are three Rewaco models in total and this one, the HS6 Sports, is their flagship.
MBT had previously sold this particular trike to a millionaire dude who didn't go a bundle on getting wet: first time out with it with a bit of rain and the black beast was quickly back at MBT for resale. Enter Phil who, after the guided tour of their establishment and a spin around the leafy lanes of the local Devonshire countryside, wanted a few accessories fitted, and a small wedge later he was off up the M5, grinning like a Cheshire Cat.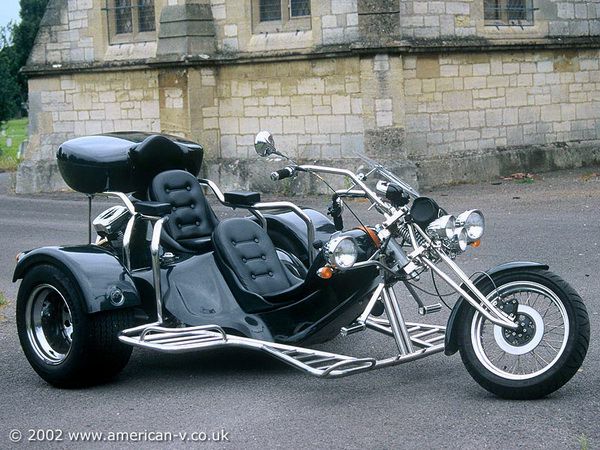 Trike on Time - Words & Pics: Pete Hicks - www.american-v.co.uk

The trike really is quite impressive, and on first appearances it resembles one of those Phoenix VeeDub trikes that were doing the rounds some years back, but on closer inspection it's a completely different animal. Stainless steel has been extensively used throughout, and is on show too, which is a bonus because the tubing and box section steel chassis isn't: that's been hidden away by the two-piece body shell. The rear section of the shell hinges up and back to give access to the battery, a ten gallon stainless fuel tank, the transmission and drive gear … and all manner of other mechanical gubbins.
As it happens, under all that bodywork, the chassis is a nice looking item in its own right. Unlike the toddlers climbing apparatus look-a-like that usually adorns this type of vehicle, the Rewaco chassis is well manufactured, extremely sturdy and, as expected of a factory built machine, there's no bird shit welding to be spotted anywhere. Added to the frame is an axle of Rewaco's own design, and keeping it from dragging on the deck are a pair of huge offset 12x15" chromed steel rims by Mangel, wearing 325/50 rubber and leaving a fair size imprint on the asphalt. At t'other end is a pair of stainless 'Trapezoidal' springer forks, which squeeze a 17" alloy spoked rim with a 150/60 tyre.
Bringing forward motion to a halt is with the use of a single front disc, Grimeca calliper and stainless braided hosing, backed up by servo-assisted inboard discs at the rear. The foot controls for the brakes and clutch are fully adjustable for the size of rider: good forward thinking by the manufacturer.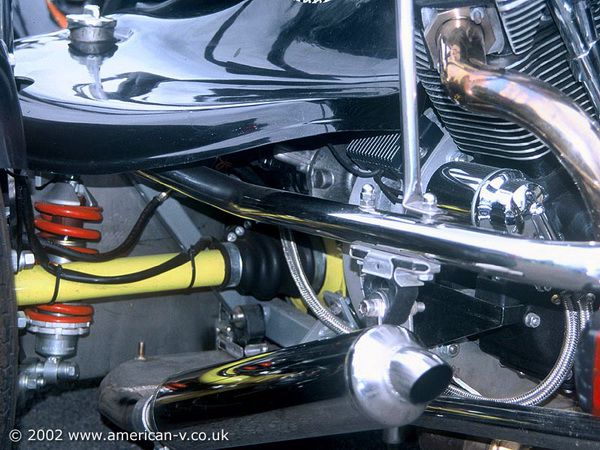 Trike on Time - Words & Pics: Pete Hicks - www.american-v.co.uk

Making bouncing over the bumps that is our UK road network system more pleasing to the haemorrhoids is a brace of Bilstein gas shocks on the rear … and at the pointy end are those springers!
The pullback bars are home to a quick action throttle, and Rewaco clocks and gauges. In fact everything a trike pilot needs to know is relayed back to them via the white-faced, chrome-bodied instruments. Seating arrangements are two bucket-type seats, including curved side supports, and the pillion is spoilt rotten by the addition of a neck pad and arm rests, all fitted to a stainless sissy bar and guardrail. More guardrails, in the form of side impact footboard rails, engine and exhaust guards complete the protection.
All the polishing of stainless and alloy, and the chroming was all done in-house, and that's a lot of brightwork. The fibreglass bodywork, including the mudguards, is gel coated in 'Brilliant Black Metallic' and the framework is plastic coated in Silver Metallic.
All the electrical doodahs are housed in the fatbob style dummy tank, which also doubles as a home for the gearshift lever. Lighting is achieved by means of six round type car lights on the rear fenders, and a full compliment of Indian replicas up front.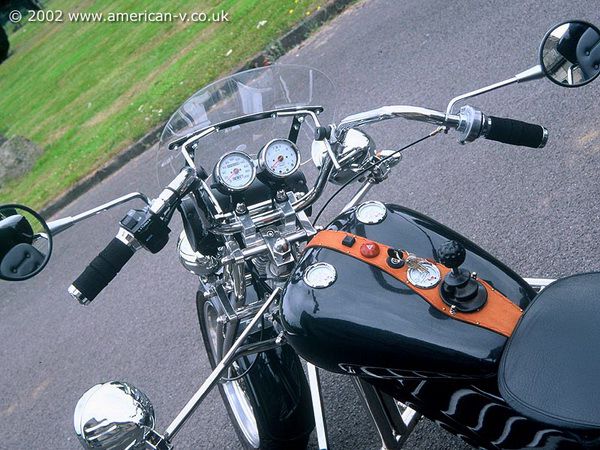 Trike on Time - Words & Pics: Pete Hicks - www.american-v.co.uk

I suppose you were thinking how does this thing get from A to B? It must be too heavy to push, surely? Well I've saved my favourite part of the trike's inventory until last. Look, I'm the storyteller: I'll please myself!
The all singing, all dancing motor is a Rev Tech, eighty-eight cubic inch (1438cc) V-twin lump of metal refinement. And it looks so cool, don't you think? Brazenly stuck out there at the back, for all the adoring public to swoon at. Plumbed-in on stainless braided hoses for its lifeline of oil, the motor is then coupled up to a stainless exhaust system, which also incorporates a 3-way cat … these bloody bureaucrats will pollute the air with rotting egg smells, won't they? Their emission laws stink.
Such are the perfect calculations made by Rewaco, that the riding position for their riders is near nigh perfect. This trike eats up the miles with so much ease that Phil gets to where he's going and then ponders how he got there - well it it's either that or decent drugs.
So the up-shot is that Phil and his old 'Scorpion MCC' chums are still out there, doing what they did nigh on forty years back, although they're doing it somewhat slower and less boisterously nowadays.
… and if you believe that, you'll believe anything.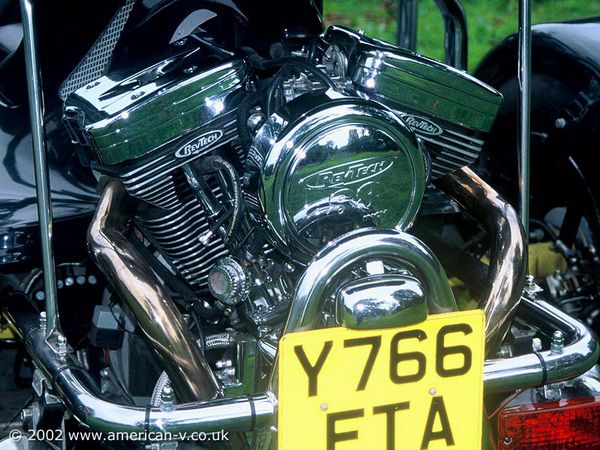 Trike on Time - Words & Pics: Pete Hicks - www.american-v.co.uk

Specifications
Owner:
Phil Shellam
Make & Year:
2001 Rewaco HS6
Engine:
RevTech 88-inch, 1438cc V-Twin, stainless steel braided hosing, RevTech 5-speed gearbox with reverse, servo assisted clutch
Exhaust:
Stainless with 3-way catalytic converter
Frame:
Rewaco steel box-section and tube.
Forks:
Stainless Trapezoidal Springers
Rear Suspension:
Bilstein gas shocks on Rewaco rear axle
Front Wheel:
150/60x19 alloy
Front Brake:
Single sided Grimca calliper
Rear Wheels:
2 x 325/50x15 by Mangel
Rear Brake:
Servo assisted in-board discs
Seat:
2 single seats with side support
Petrol Tank:
stainless 5-gallon
Mudguards:
ribbed fibreglass front, rear combined with bodywork
Paint:
Gel-coated Brilliant Black
Polishing:
Rewaco
Handlebars:
Pullbacks
Electrics:
Rewaco
Thanks to: Phil at MBT, and to Helen.
sources : www.american-v.co.uk