2 décembre 2010
4
02
/

12
/

décembre
/

2010
17:14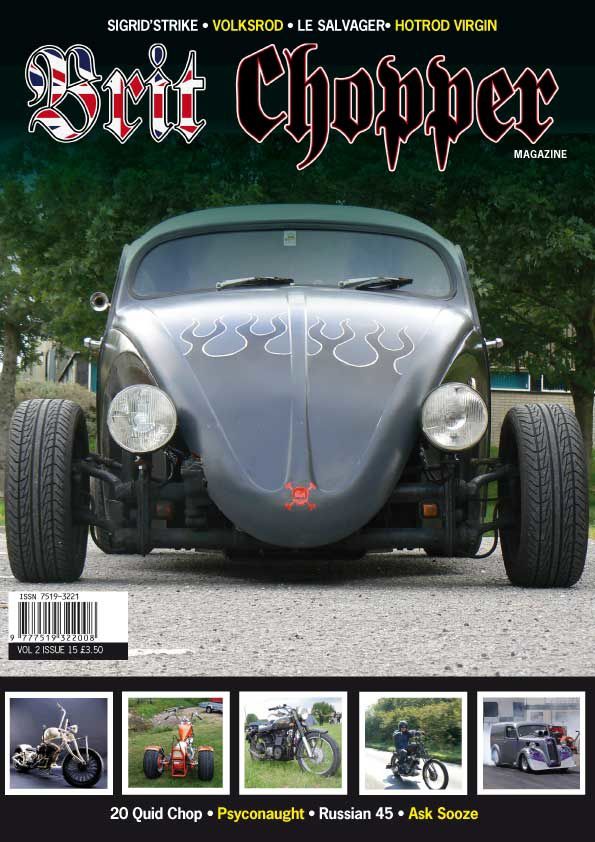 Brit Chopper issue 15
Radical rodded Beetle on cover with a full feature inside. There's a very orange Swedish trike, a Ford Pinto powered Rat bike, Phsychonaut (a chopped GSX), a Harley Combo owned by a nice lady, a stunning Harley '45 from Russia, the last part of the editor's Indian trike build, the biggest-engined bike in the world, a 2 litre single, more Nostalgis Drags from Crazy Odgie, a Panther bobber, Panthershaun's Ford Pop project, and more.
Rick rambles, Sooze advises and Le Salvager tells of when he was a member of the "Guardian Angels". Plenty of rods with features on Hemsby, and Lee's radical Volksrod. Technical features include how to swap braided stainless brake fittings, part 1 of airbrushing and how to register a trike after it's been MSVA inspected. Plenty of features including the £20 Challenge. We challenge you to build a chop for under £20. Look at the one we've done for £7!
Centrespread: Indian trike.
sources : photo et texte :http://www.britchopper.co.uk