3 décembre 2010
5
03
/

12
/

décembre
/

2010
17:14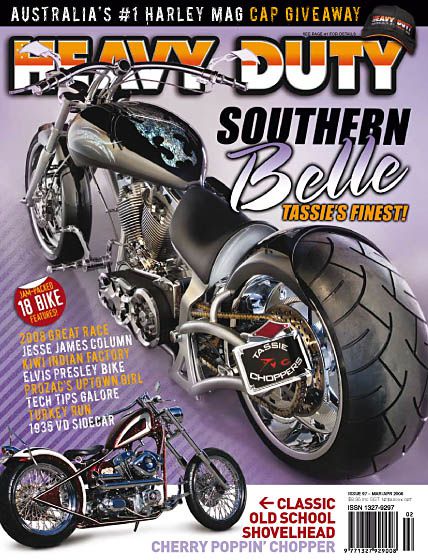 HEAVY DUTY Issue 97 March/April 2008

Welcome one and all to the autumn issue of HEAVY DUTY. Summer is just a memory but there is still plenty of good riding to be had all over the country. And plenty of good reading in the latest issue of HEAVY DUTY. We've packed 18 bike features into this edition and the two cover bikes are just sensational!

Southern Belle is a 96 cube Pro Street style custom built by Scotty Nation from Tassie Choppers. Owner Brad wanted a one-off stand alone custom and Scotty sure delivered. It's his first full build but with skills like his it won't be the last! A stand-out feature is the mother of pearl inlay on the fuel tank; a unique touch! The photo shoot was done by Micheal Drabikowski from Melbourne and he's done full justice to a fine bike.

Our other lead feature is a very stylish retro Shovel chopper. This genre is becoming very popular and this example is one of the best we've seen. Built by owner Mark and Graham from GLH Customs in Gosford the build took over six years to complete! Five years to collect the parts and 18 months to assemble. But the result is well worth the effort. This is a classic styled chopper showing off all the signature cues; rigid frame, wire wheels, straight out pipes, no front guard and a paint scheme dripping with metal flake. A credit to its owner and builder.

And of course, that still leaves 16 other ripper bikes to read about! We cover everything from a very rare vintage 1935 VD sidecar outfit to wild custom rides that will make your eyes pop. And, of course, let's not forget the mad, bad and dangerous 'Blues Breaker', a 190 horsepower, 145 cube, S&S monster built by Lappo from the Chopper Shop in NSW. This bike is absolutely nuts; a monster engine, retina burning paint scheme and a rake that stretches to the next state! Ronny, the owner, loves it and why wouldn't he!

We also cover the Wild Turkey Run and the 2008 Great Race. The Harleys won the Great Race this year!

And on a more serious note we explain what's behind the renewed push for front number plates to be fitted to every bike in Australia, including yours!
sources : http://www.heavyduty.com.au