1 décembre 2014
1
01
/

12
/

décembre
/

2014
01:00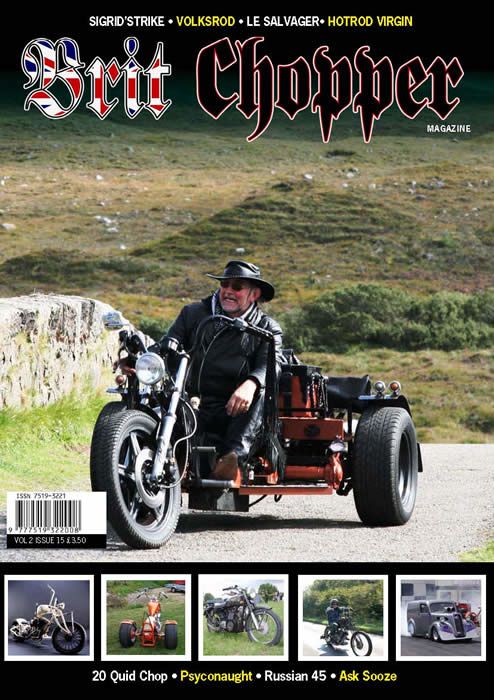 Brit Chopper issue 16
Road Trip Part 1, Alucard and his gang start their epic journey from John-O-Groats to Land's End….on Honda 90's, and they're all wearing Brit Chopper "T" shirts. There's another £20 Chop, a "Retro" Reliant trike, done 1930's Indian style, a Chop called 1314, so named because of the spanners he used, the Cullins Cowboy's VW trike featured on the cover, Mick's tasty Intruder, and Trikeopath's wheelie machine….there are a few trikes in this issue! Take a look at Crazy Odge's Triumph he's had stashed in his shed for years, and marvel at the latest radical bike from our old mate Atan, in the jungles of Malaysia.
We've not forgotten you Rodders. Odgie sent us pics of a slammed and chopped '53 Pontiac, there's a Triumph Herald V8, rodded 30 years ago and discovered by us, unspoilt, in a lock-up near Harwich, and PantherShaun photographed a nice traditional Model "T".
Technical features include a beginner's guide to Supercharging, and Phixer's guide to airbrushing. All our usual cronies are here as usual. Le Salvager is….salvaging, Rick's still Rambling, and Sooze is still getting asked. There's much more in here, so you'll have to buy it. CENTRESPREAD: Mick's Intruder.
sources : photo et texte :http://www.britchopper.co.uk