18 novembre 2010
4
18
/

11
/

novembre
/

2010
11:10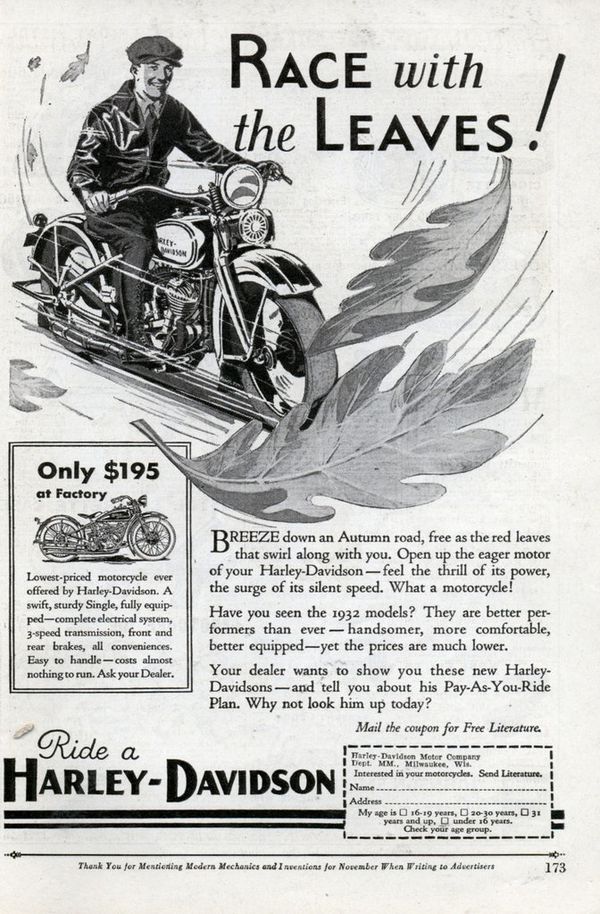 HARLEY-DAVIDSON: Race with the Leaves! (Nov, 1931)

Race with the Leaves!
BREEZE down an Autumn road, free as the red leaves that swirl along with you. Open up the eager motor of your Harley-Davidson feel the thrill of its power, the surge of its silent speed. What a motorcycle!
Have you seen the 1932 models? They are better performers than ever handsomer, more comfortable, better equipped yet the prices are much lower.
Your dealer wants to show you these new Harley-Davidsons and tell you about his Pay-As-You-Ride Plan. Why not look him up today?
Only $195 at Factory
Lowest-priced motorcycle ever offered by Harley-Davidson. A swift, sturdy Single, fully equipped complete electrical system, 3-speed transmission, front and rear brakes, all conveniences. Easy to handle costs almost nothing to run. Ask your Dealer.
Ride a HARLEY-DAVIDSON
Source: Modern Mechanix - Issue: Nov, 1931
sources : http://blog.modernmechanix.com