18 décembre 2010
6
18
/

12
/

décembre
/

2010
11:10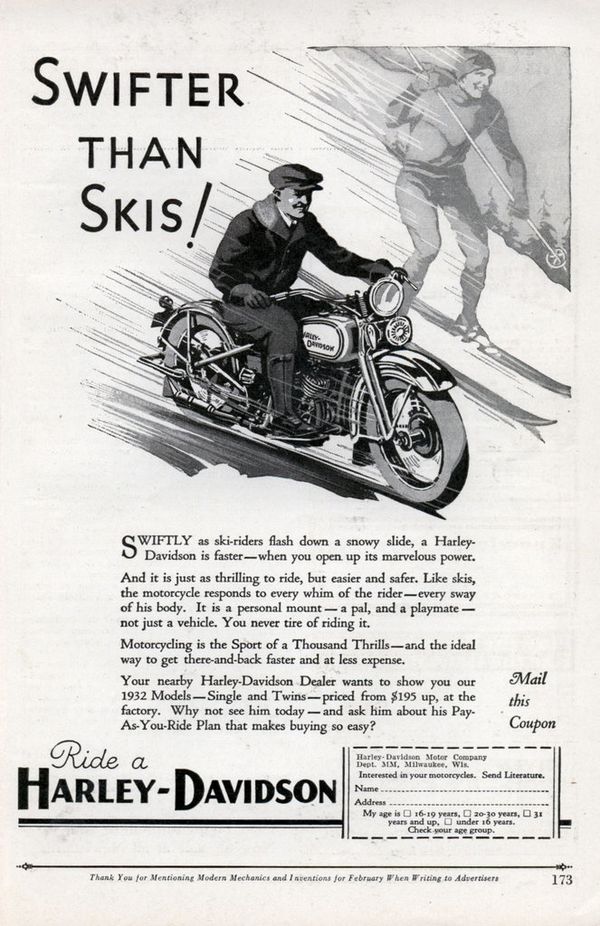 Harley Ad: Swifter THAN Skis! (Feb, 1932)

Swifter THAN Skis!
SWIFTLY as ski-riders flash down a snowy slide, a Harley-Davidson is faster when you open up its marvelous power.
And it is just as thrilling to ride, but easier and safer. Like skis, the motorcycle responds to every whim of the rider every sway of his body. It is a personal mount a pal, and a playmate not just a vehicle. You never tire of riding it.
Motorcycling is the Sport of a Thousand Thrills and the ideal way to get there-and-back faster and at less expense.
Your nearby Harley-Davidson Dealer wants to show you our 1932 Models Single and Twins priced from $195 up, at the factory. Why not see him today and ask him about his Pay-As-You-Ride Plan that makes buying so easy?
Ride a Harley-Davidson
Source: Modern Mechanix - Issue: Feb, 1932
sources : http://blog.modernmechanix.com