11 décembre 2010
6
11
/

12
/

décembre
/

2010
15:07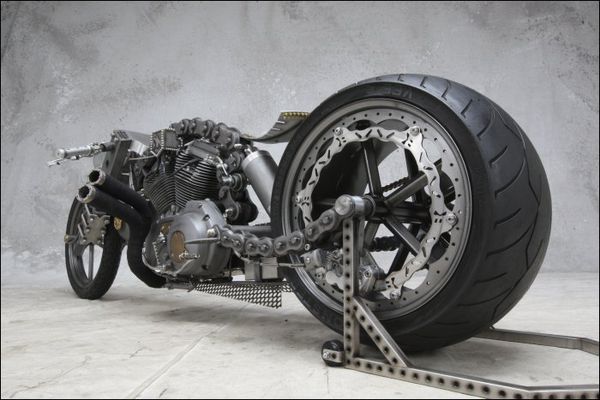 RK Chain - RK Concepts

2009 World Championship - Freestyle
Builder : Rafik Kaissi
Location : Austin, TX
Country : USA
Website : www.rkconcepts.com
Bike Name : RK Chain
Year / Model : 2009
Engine Make / Size : Buell 1200
Transmission Type : Buell
Frame Make / Type : RK Concepts
Front End : RK Concepts
Rake : 38 degree
Swingarm : RK Concepts
Wheels - Front : Wheels4Choppers-19/2.5
Wheels - Rear : Wheels4Choppers-18/14
Tires - Front : Bridgestone 90/90-19
Tires - Rear : Vee Rubber Monster 360/30-18
Brakes - Front : None
Brakes - Rear : Buell Caliper/Braking Rotor
Painter : Pat Lesiak
Chroming / Plating : None
Additional Info : RK pipes, RK design front end, RK headlight. RK custom leaf spring seat.
Mikuni carburator with custom intake.
Right side drive with extended sprocket.
Custom oil bag.
Back pack gas made out of old fire extinguisher.
ISR hand controls with custom hand grips.
Hand grenade front end brake fluid reservoir.
Leaf spring front end with rear air ride suspension.
sources : http://www.amdchampionship.com & www.rkconcepts.com