14 novembre 2010
7
14
/

11
/

novembre
/

2010
05:30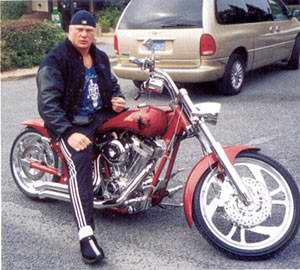 Brock Lesnar

Brock Edward Lesnar, né le 12 juillet 1977 est un ancien catcheur (lutteur professionnel) américain recemment reconverti dans le combat libre. Il fut employé par la World Wrestling Entertainment puis au Japon à la New Japan Pro Wrestling.


Brock Edward Lesnar (born July 12, 1977 in Webster, South Dakota) is an American mixed martial artist as well as a former professional and amateur wrestler. He is currently the UFC Heavyweight Champion. He is currently ranked the #2 Heavyweight in the world by MMAWeekly.com.

Lesnar was an accomplished amateur wrestler, winning the 2000 NCAA heavyweight wrestling championship and placing second in 1999, losing in the finals to future New England Patriots offensive lineman Stephen Neal. He then gained prominence in World Wrestling Entertainment (WWE), where he was a three-time WWE Champion and the youngest person ever to hold that championship at that time. Lesnar was also the 2002 King of the Ring, and the winner of the 2003 Royal Rumble.

After leaving WWE in 2004, Lesnar pursued a career in the NFL. He played during the preseason for the Minnesota Vikings, but ended up being a late cut. Lesnar returned to professional wrestling at the end of 2005, and joined New Japan Pro Wrestling, where he won the IWGP Heavyweight Championship in his first wrestling match since leaving the WWE. He was stripped of the title in July 2006, although he held the physical belt until June 2007.

Lesnar started a career in mixed martial arts and had his first fight in June 2007. He then signed with the Ultimate Fighting Championship (UFC) in October 2007. Upon signing with the organization he had an unsuccessful debut against Frank Mir, but has since remained undefeated, capturing the UFC Heavyweight Championship from Randy Couture on November 15, 2008 and avenging his earlier loss to Mir by way of a second round TKO at UFC 100.
sources : From Wikipedia, the free encyclopedia & www.bikemenu.com