22 juillet 2010
4
22
/

07
/

juillet
/

2010
17:41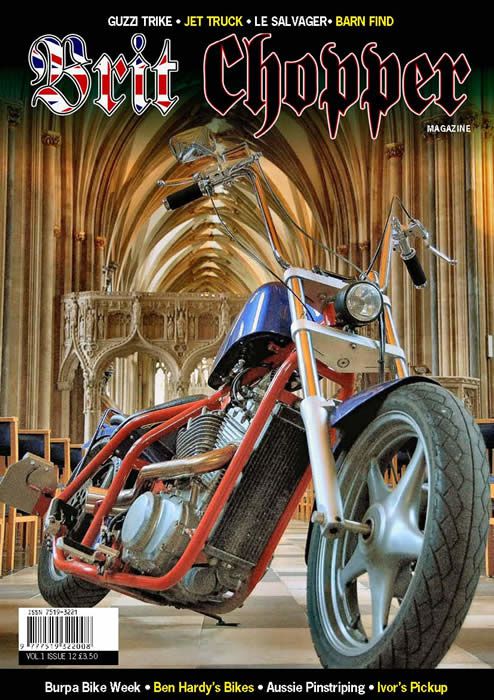 Brit Chopper issue 12
Let me tell you about the cover. It's not "Photo-Shopped". The naughty Bikers sneaked that Chop into a Cathedral! This issue fires off with a feature on Ben Hardy. Ben who? He's the unsung hero of "Easy Rider". Ben built the bikes. Oddball features include Knife-Grinding and a Short History of False Teeth. There's more Thai cuisine from Atan when he visited the Burappa Bike Show, a couple of trikes and some great bikes, including a 1920's Vee-Twin Jap-engined Chop from Finland. The owner found the donor bike in a barn!
From forum members come "Cloud in India", a trip to India (obviously), and a feature on an Australian pinstriper, Neo Dutch.
To keep you car-freaks happy, there's Ivor's '34 Ford Pickup, and whilst we're talking Pickups, there's a feature on the world's fastest one. It's fast because it's powered by a Westinghouse J34 Jet engine, and it's here in the UK.
For sportybike lovers, read about Steve Green's Sprinter, built in a shed. Its single cylinder engine revs to 13,000rpm.
All the usual features are there. Ask Sooze, Rick's Ramblings, How We Started etc, plus we now have a new regular contributor, Rico Daniels, "Le Salvager" from the Discovery Channel.
CENTRESPREAD: Ivor's radically chopped flathead V8 Pickup.
sources : photo et texte :http://www.britchopper.co.uk