18 décembre 2009
5
18
/

12
/

décembre
/

2009
14:31
Elvis' Panhead
Words & Pics: Rich King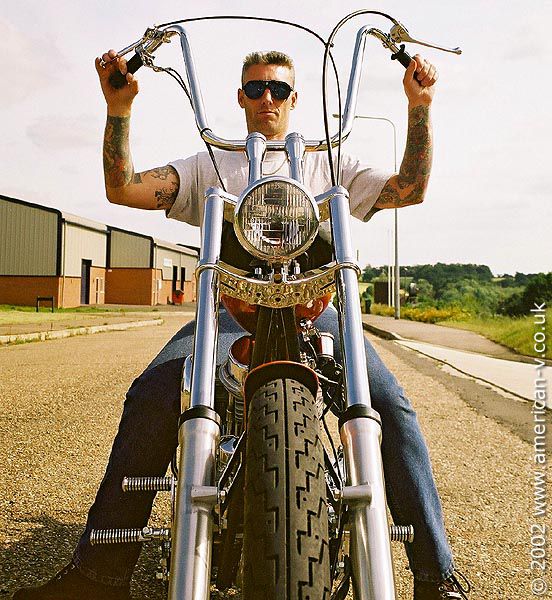 Elvis' Panhead - Words & Pics: Rich King - www.american-v.co.uk

Of course Mark isn't the Elvis, he's an Elvis - a nickname he got given by cruel Harley Riders Club of Great Britain types just
because he tends towards your more Rocker than your Hairy Arsed.
Bikers eh?
Tch.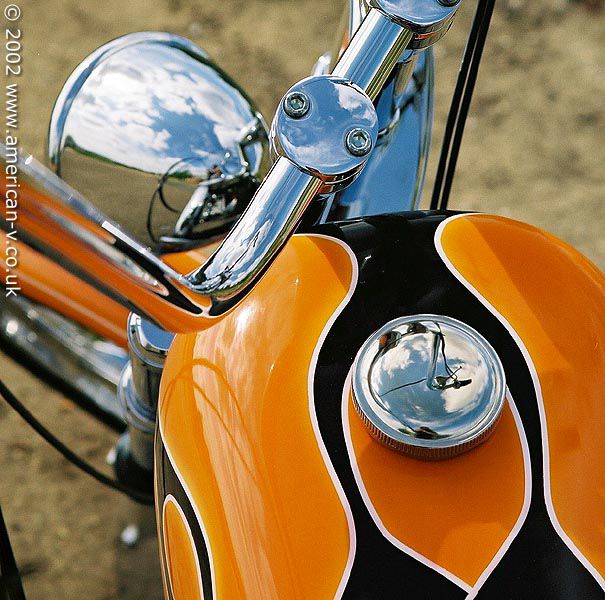 Elvis' Panhead - Words & Pics: Rich King - www.american-v.co.uk

But of much more interest is his 1958 FL Duo Glide Panhead chopper, and it definitely is a chopper and not some offsprung variant
like a lowrider, power custom or streetfighter. And before purists start howling foul murder,it also came into his possession as a
chop: he'd been riding an XR1000 Sportster beforehand, then some eighteen months or so ago he sold it to a mate and bought the
chop.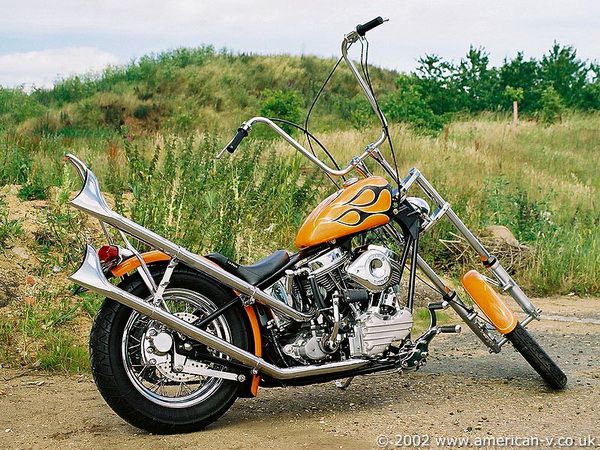 Elvis' Panhead - Words & Pics: Rich King - www.american-v.co.uk

By all accounts the Pan had been actually chopped quite some time ago, a 1986 Motex frame hints at the last major structural
change, but goodness knows what changes it went through before then. Somehow I cannot imagine in 1986 someone pulling apart a
pristine, concours '58 Duo Glide to build the chop: much more likely is that this Pan has had a very interesting life and has gone
through a myriad of changes, seeing a lot of action on the way. A bit like Madonna. Certainly Elvis had known the Pan had been run
hard before it had come into his possession, the guy had used it hard and it had very rarely let him down, he just wasn't a preener
and polisher.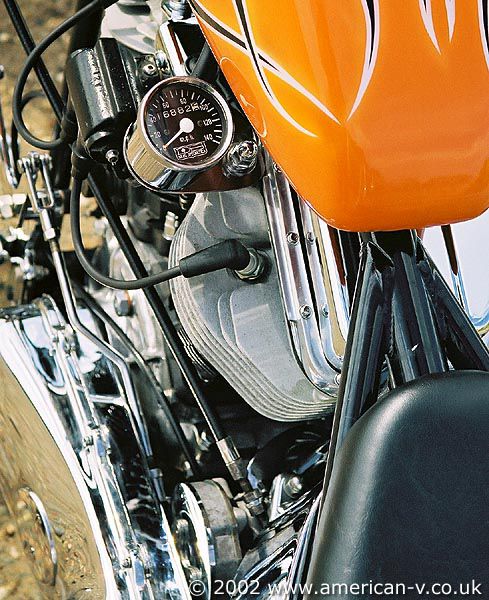 Elvis' Panhead - Words & Pics: Rich King - www.american-v.co.uk

Elvis bought the Pan as a runner, and a good, first time runner too - if you could live with the loose clattering and clunking and
oil squirting out in various directions. The previous owner could: that's the way he ran them. Elvis couldn't. A project was born,
but at this stage Elvis was visualising quite a simple project. A bit of an engine re-build, new pads and tyres and a run 'round
with a damp rag sort of thing. Certainly he was taken with the looks of the Pan, arriving orange with a black flame job with
white/cream pin, so it shouldn't take much … should it?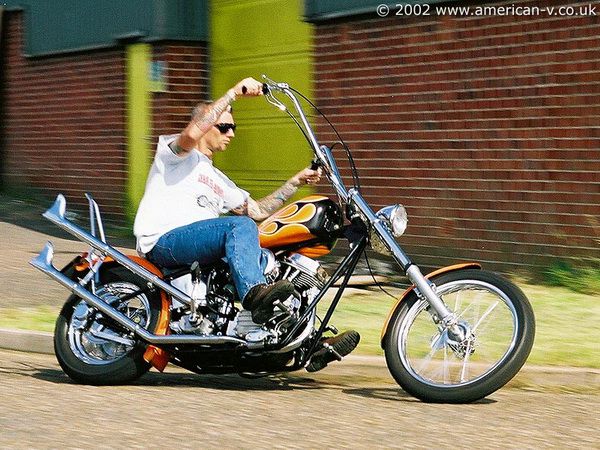 Elvis' Panhead - Words & Pics: Rich King - www.american-v.co.uk

Yeah, you know it. His mates come around as soon as he started and before you can say 'You don't want to do it like that …' you've
got a full-on project on your hands. Nobby (with help from Elvis) settled happily into motor re-build mode: anything that was good
was kept, cleaned and put to one side while anything that was okay was fettled and anything that was dead was binned. So the crank
was balanced and the heads re-furbished at Matts Machine Shop, for instance, but clutching a V-Twin catalogue, the motor parts were
minutely examined and if anything had to go, V-Twin would get the call for the replacement.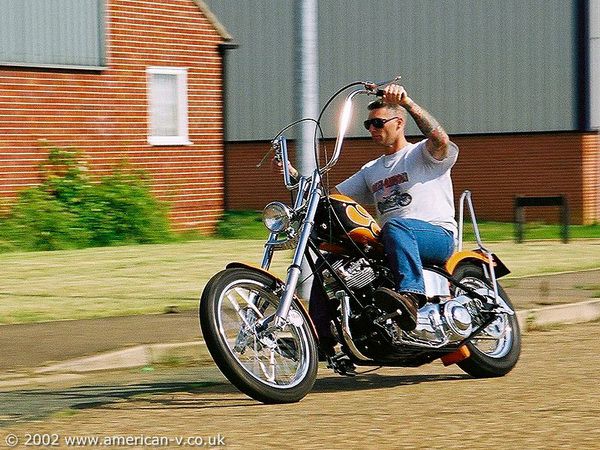 Elvis' Panhead - Words & Pics: Rich King - www.american-v.co.uk

V-Twin supply both original parts and also their own replacement pattern parts too. Never a purist, Elvis neither knows nor cares
all that much whether the replacement parts that he ordered were original 1958 Panhead or not. It's a good bet that he received a
mixture of both, and an even better bet that the Pan wasn't exactly 100% original when it first came into his hands anyway. If it
works and it looks right, so what?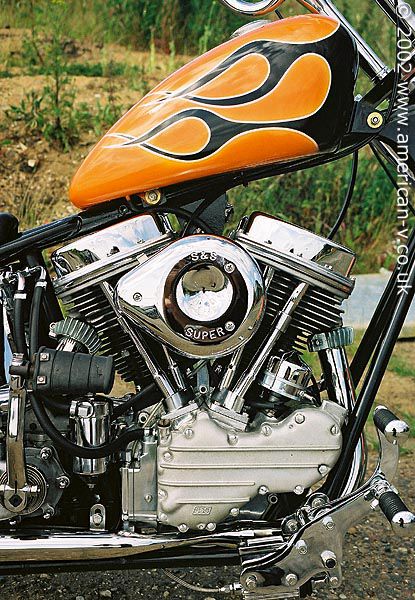 Elvis' Panhead - Words & Pics: Rich King - www.american-v.co.uk

As this wasn't a full restoration, Nobby and Elvis could also take their pick from a cornucopia of after-market performance parts
too and so were able to opt for a V-Twin cam and S&S rods, acting on standard type V-Twin lifters. As the engine neared completion
an S&S carb and filter were chosen to feed the motor, while Paughco provided the impressive exhaust to empty it again. The
transmission stayed 4 speed, rebuilt by Nobby and Elvis, and was finished off with a new V-Twin primary cover.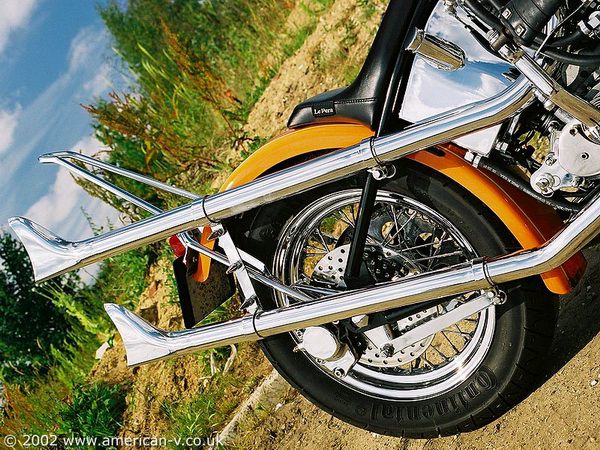 Elvis' Panhead - Words & Pics: Rich King - www.american-v.co.uk

Meanwhile, with an engine coming back together so nicely the rest of the machine started to look a little bit shabby and not
wanting to leave a job half done …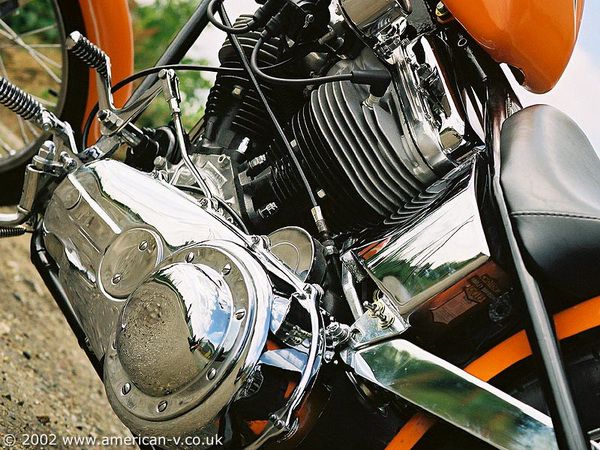 Elvis' Panhead - Words & Pics: Rich King - www.american-v.co.uk

So the 'original' Motex hardtail frame was seriously cleaned up, and just about every other cycle part was put to one side and
replaced with the best stuff Elvis could source. Up front 6-inch-over wide glide forks were slotted into a set of V-Twin Smoothie
yolks, mounted into those are a set of 8inch risers which support the impressive - rather you than me - High Boy apehanger
handlebars. The 21-inch front wheel was new too: the individual parts sourced from V-Twin and later laced together at Ted's Cycle
Shed, as was the rear 17-incher. The front wheel features a very minimal drum/hub brake to keep the law happy, but while Elvis
admits it isn't very effective, it sure looks right. Actual braking is taken care of at the rear, an entirely non-standard disc,
which works fine.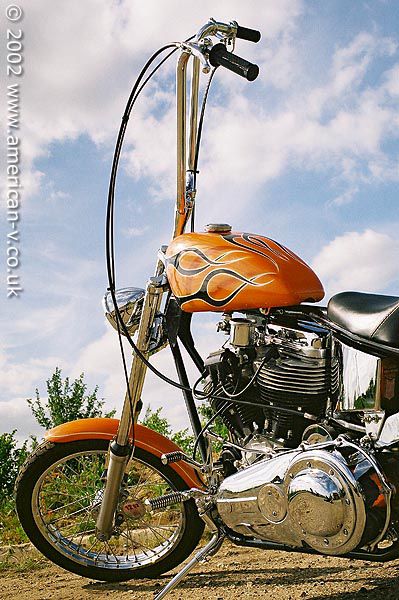 Elvis' Panhead - Words & Pics: Rich King - www.american-v.co.uk

Nobby and Elvis did the electrics, wiring in a Paughco Teardrop front headlamp, among other things, while Drag Specialities
provided the entirely accurate mini speedo. Harley-Davidson parts include the Horseshoe tank, which I believe was sourced new and
also the mudguards, the front looking like a standard, unmodified WideGlide/Sportster, but I have absolutely no idea what's on the
rear.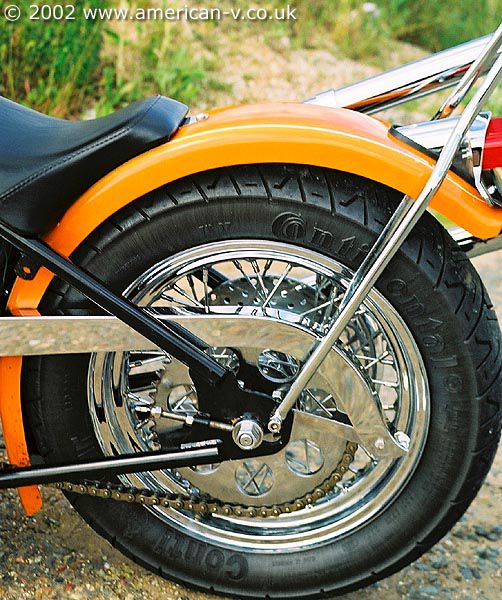 Elvis' Panhead - Words & Pics: Rich King - www.american-v.co.uk

While the paint job is the same style, the old peanut Sportster petrol tank was replaced by another new-ish H-D addition, a new
style Sportster tank. The new tank fills the frame better and has the added advantage of allowing you to travel a decent distance
before you're forced to find a garage. Just behind the tank, looking just perfect is a La Pera Bare Bones single seat and the sissy
bar? Sorry no idea.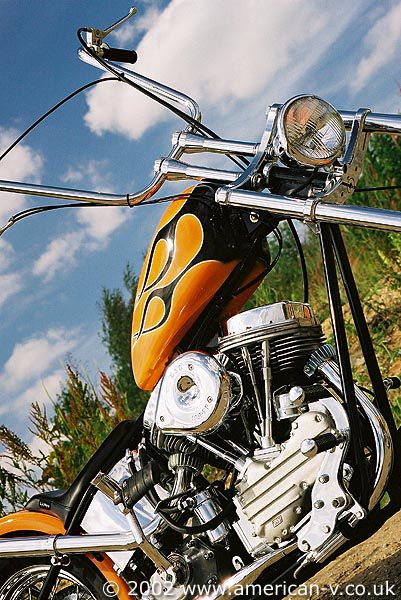 Elvis' Panhead - Words & Pics: Rich King - www.american-v.co.uk

What started as sort it out and bung it back together sort of project actually became a painstaking labour of love, the attention
to detail all around the Pan is a credit to everyone who was involved in the build. Elvis was pleased to get the chop back on the
road earlier this year but honestly was not aware that he was riding anything particularly special. As far as he was concerned it
still felt like a bit of a bolt together and bung back on the road job, he'd built it to ride it (and following him on a Dyna Sport
I can certainly vouch for that!). Elvis rode it to a chopper club show soon after it was back on the road, and while attempting to
park it in the carpark was finally persuaded by the organisers to put it in the show. Unsurprisingly to everyone except Elvis, it
scooped the Best of Show, a real accolade if you have seen what the Chopper Club lads put together. But my favourite touch? It has
to be the kick start rubber - perfect, just perfect, that has to be original!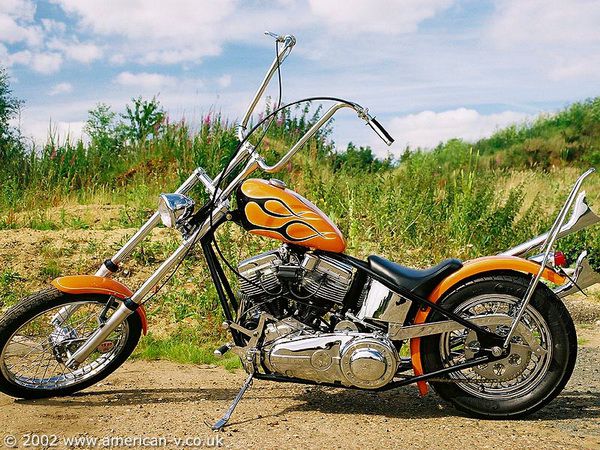 Elvis' Panhead - Words & Pics: Rich King - www.american-v.co.uk

Specifications
Owner:
Mark Pankhurst
Make & Year:
1958 Harley-Davidson Panhead
Engine:
1200cc / 74ci Panhead with S&S rods, V-Twin cam and lifters, with balanced crank and refurbished heads by Matt's Machine Shop.
Stock 4-speed kicker 'box. Engine and box rebuilt by Nobby and owner
Exhaust:
Paughco fishtails
Frame:
1986 Motex hardtail
Forks:
6"-over Wide Glide in V-Twin "Smoothies" yokes
Rear Suspension:
Don't be silly
Front Wheel:
21" laced by Ted's Cycle Shack
Front Brake:
Drum in hub
Rear Wheel:
17" laced by Ted's Cycle Shack
Rear Brake:
Disk
Seat:
La Pera Bare Bones
Petrol Tank:
Harley-Davidson King Sportster (current shape)
Mudguards:
Harley-Davidson Wide Glide on front, bobbed 6" flat on rear.
Paint:
Island Art, 2-pack: orange and black 1970s flames
Handlebars:
8" risers with "High Boys" apehangers
Controls:
V-Twin Forwards
Electrics:
Wiring by Nobby and owner.
Lights:
Front: Paughco Teardrop headlamp
Rear: Lucas-type
Machining: Matt's Machine Shop
Thanks to :
Nobby (Anglo American) and Big Trev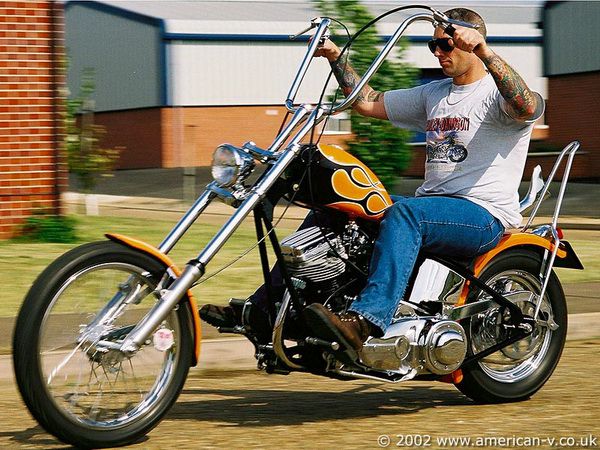 Elvis' Panhead - Words & Pics: Rich King - www.american-v.co.uk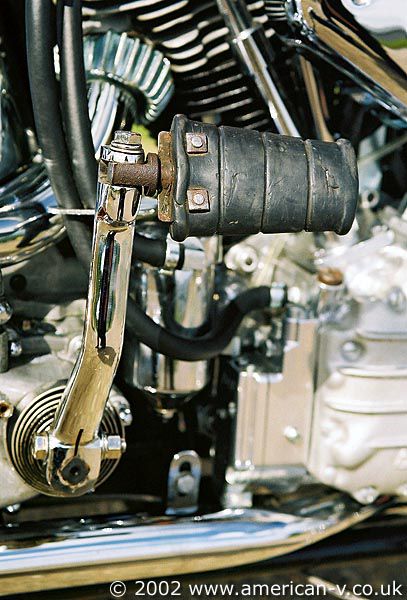 Elvis' Panhead - Words & Pics: Rich King - www.american-v.co.uk

sources : www.american-v.co.uk